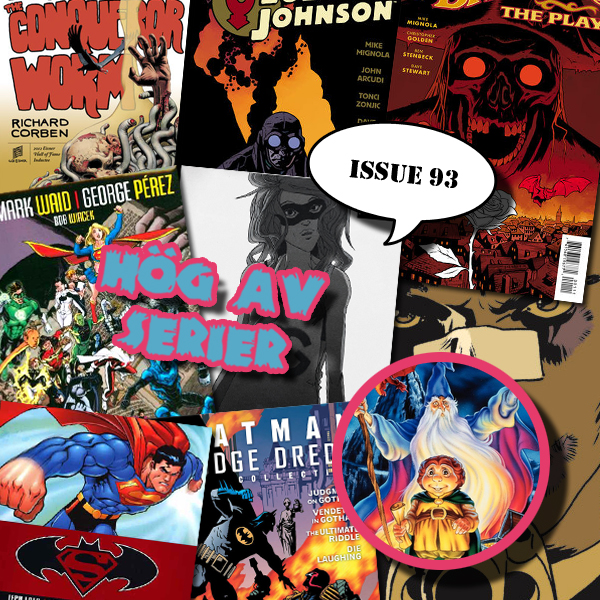 0:00 – Nyhetssnack med välkomnande av den förlorade sonen som vänder hem, diskussion kring Gail Simones numera avslutade arbete av Batgirl, att Allan Moores Neonomicon förbjudits på bibliotek i staterna och serieversionen av Män som hatar kvinnor.
10:10 – Lista över Topp 5 seriefigurer under fyra fot.
21:01 – Samrecension av Rankin/Bass tecknade The Hobbit från 1977 och serieversionen från 1989 av Charles Dixon och David Wenzel.
44:27 – Vad vi läst: komparativ läsning av Batman/Superman: Public Enemies av Jeff Loeb och Ed McGuiness samt The Brave and the Bold: Lords of Luck av Mark Waid och George Pérez.
52:31 – Freddie minirecenserar seriefestivalerna Comica Comiquette i London och Thought Bubble i Leeds.
1:03:14 – Scene of the Crime av Ed Brubaker, Sean Phillps och Michael Lark.
1:11:10 – Batman/Judge Dredd Collection av en massa människor.
1:20:54 – Girl and Boy av Andrew Tunney.
1:25:00 – Lobster Johnson: the Burning Hand av Mike Mignola, John Arcudi och Tonci Zonjic.
1:28:00 – Richard Corbens tolkning av The Conqueror Worm
1:32:34 – Baltimore: The Play av Mike Mignola, Ben Stenbeck och Christopher Golden.

Ladda ner: Return of the Kaplan
Storlek: 85 Mb
Speltid: 98 min
Medverkande:
Anton Bjurvald
Anders Lundgren
Freddie Kaplan